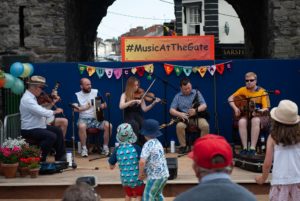 Darragh here. I'm a local uilleann piper from Drogheda. Because of the tireless work done by Drogheda Comhaltass, Drogheda has enjoyed a massive revival in traditional Irish music. I started Music at the Gate to test the waters in September 2017 and since then it has exploded into a popular family focused event that encourages musicians, singers and dancers to perform on a supportive and welcome platform in front of the iconic Laurence's gate tower at the heart of Drogheda. It is an honour to run this event at the Fleadh this year. I invite you all to come to my home town and join us at Music at the Gate. Register for a slot or just turn up and play at one of the many sessions that will start throughout the week.
Join in
Take a slot during Music at the Gate at this year's Fleadh. play, sing or dance solo or with a group. Register with just a few clicks.
Register
Support
Music at the Gate is not funded by the Fleadh. This is a fringe event and therefore we need help with the cost of hiring the stage, lighting and amplification.
Donate
Performances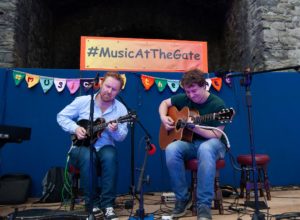 Music at the Gate will feature performances from musicians of all ages and at all levels. From the child just starting school who wants to take to the stage for the first time to the old hands not so fresh from their world tour. This stage will welcome and encourage all musicians with equal enthusiasm and appreciation.
Open Sessions. All Welcome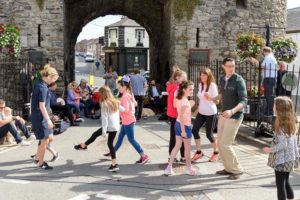 The aim of Music at the Gate is to encourage participation and inclusion. When a musician, singer or dancer is not on stage, we encourage you to come up and start a session. Take a break from the crowded sessions that will fill the town and join us for a few tunes at the gate. Are you up for something a bit more structured? Ask us if you can take a slot and we'll try to fit you in to the program.
Professional sound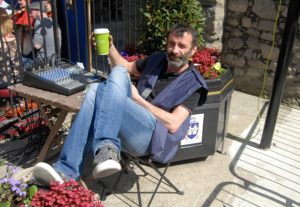 I have performed on stages for a hand full of people and on stages to thousands. I understand that great sound isn't something that you want, it's something you need. Your sound is your product. Be assured that Music at the Gate takes your front of house and your monitor sound very seriously. During the Fleadh we will have some of the best sound engineers in the country on hand. Dedicated and experienced engineers will be on hand through out the 77 hours that music at the Gate will run over the week of the Fleadh. If you have special requirements, please Email me.