Free
Want something to do with all the family over Christmas?
The Music at the Gate Christmas concerts are always very enjoyable. Last years concert was full to capacity.
Tallent
Promoting local talent is at the core of the Music at the Gate mission.
Inviting musicians from around the country is just a particularly nice bonus. You are going to enjoy the lineup.
Venue
Situated along the Ancient town walls of Drogheda, Gerrards Church is fast becoming one of the rediscovered treasures of our town.
Professional sound and lighting along with this exclusive venue sets the stage for a night not to be missed.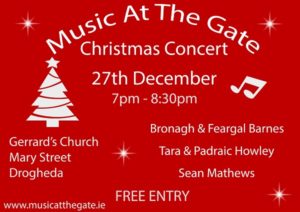 Quick info
Doors open at 6:30pm
Children are welcome
Admission is free
Sean Mathews & Band
Dreaming is allowed is the mantra of Drogheda singer song writer Sean Mathews and is the title of his latest album. Along with his wonderful band of friends each one an accomplished musician in their own right, Sean has captivated audiences at countless performance since the album was released in August. Sean's album features a combination of self-written and cover songs delivered in a folk style with local influences such as Gerry Cullin. The mission of Music at the Gate has always been to highlight and promote local musicians. We are delighted to have Sean headline this very special concert.
Tara Howley & Pauric Howley
Entertaining us with tunes, songs, stories and dancing, Tara Howley and her faather Pauric Howley are our special guests on the night of the 27th of December. They will travel from Co. Claire where the father and daughter duo are regularly found entertaining and wowing visitors. Tara Howley is a multi-award-winning musician. Expertly playing the concertina, fiddle, whistle, flute, mouth organ, uilleann pipes, guitar and piano as well as singing beautifully, Tara has achieved first place in several competitions at national level. She is a regular contributor to River dance and has extensively toured around the world with this famous show
Bronágh Barnes and Feargal Barnes
Flowing and melodic. That is how one would describe the music of sister and brother Bronágh and Feargal Barnes. Coming from a family steeped in traditional Irish culture, this duo is as skilled and as fluent speaking the Irish language as they are playing Irish music. A student of the renowned Zoe Conway, Bronágh's fiddle playing flows beautifully. Punctuating tunes with song, Feargal Barnes has a striking voice and accompanies expertly on Bouzouki. These local musicians will set the scene for what will be a night of spectacular music and entertainment.