Introduction
Music at the Gate is a monthly musical event that takes place during the summer in front of the iconic Laurence's gate in Drogheda. This striking monument built in the twelfth century is a key part of Drogheda's heritage and since Music at the Gate began in September 2017, it has been used as an icon for the Fleadh Cheoil in 2018 and 2019.
Music at the Gate welcomes and encourages musicians from Drogheda, other parts of Louth, Meath, Monaghan, Dublin and other areas of Ireland to sit in the open air and enjoy the simple pleasures of playing music with a group of likeminded people. The environment of Music at the Gate is always relaxed, friendly, collaborative, supportive and fun. It has resulted in audiences of over a thousand people attending.
Purpose and mission
Music at the Gate is a free family friendly and entertaining event started and run by Darragh Ó Héiligh that aims to serve the community in Drogheda by promoting traditional Irish music. It has several core values that drives the delivery of this mission.
Increase the visibility and accessibility of traditional Irish music to everyone in Drogheda with emphasis on young families.
Provide people at any age and any musical level a supportive, relaxed, collaborative and friendly outlet to perform in public or join in with more experienced musicians to gain experience.
To help musicians who are starting to play an instrument to improve by offering a supportive and inclusive environment.
To promote and encourage the formation and evolution of friendships among musicians in this genre in Drogheda.
The event aims to help put local musicians on the map by inviting well known musicians to Drogheda to participate in this monthly event.
The Music at the Gate event showcases local talent and helps undiscovered talent become recognised. This promotes great pride among the community in our town and a realization that we have a strong cultural future.
Increased focus on culture in Drogheda will result in high quality tourist engagement. Evidence of this can be found in Ennis, Galway, Cork and in even smaller towns such as Carlow, Laoise and Doolin.
Participation
Music at the Gate is a voluntary event. Musicians, singers, dancers and helpers do not receive payment for their time or services. Local companies that aid in the form of materials such as the dance floor provided by North East Marquees and various safety equipment provided by Drogheda Hire are promoted during the event and via the popular and respected Music at the Gate social media brand.
Darragh Ó Héiligh
Music at the Gate is run by uilleann piper Darragh Ó Héiligh. Visit the Darragh Pipes website to learn more about Darragh.
Ceol FM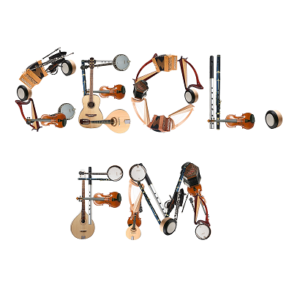 Music at the Gate is just one of a number of initiatives run by Darragh to help to increase the accessibility of traditional Irish Music.  Ceol FM was started in 2017. It is an internet music streaming service that allows 26,000 listeners from 35 countries around the world to listen to traditional Irish music all day every day.